See the Lights
Locations
The lights have been mainly reported seen from three viewing locations, all around the Linville Gorge area of western North Carolina.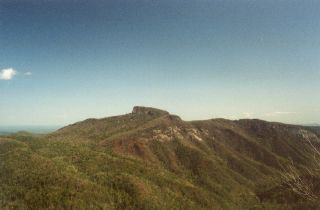 Wisemans View is a viewing location in the Pisgah National Forest. The Forest Service access (gravel) road is marked where it connects to Highway 183, which is off of Highway 221 near Linville. After parking in the parking lot you hike a couple of hundred yards down an asphalt-paved walkway (the walkway has a handicapped access route, too). This ends in a viewing ledge overlooking the gorge and provided with a couple of 'pulpits' for safe viewing. The view is to the east, looking over Table Rock and Hawk's Bill. Brown Mountain itself is beyond that ridge, a low peak in the distance (see History section for discussion of the relative unimportance of Brown Mountain itself). The lights have been seen along the ridge as well as below the ridge down in the Gorge. The sound of the Linville River is audible from below.
GPS coordinates: N 35° 54.232' W 81° 54.286'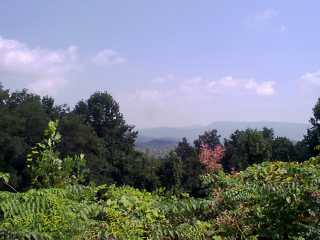 Highway 181 has an overlook that used to be marked with a sign provided by the Forest Service but that sign has since been stolen. It is about a mile south of the Barkhouse Picnic area. The gravelled pull-off has a steel road barrier type low fence The view from here is toward Brown Mountain itself, an obscure, low ridge in the distance. The vegetation makes it difficult to see when the leaves are on the trees (ie, other than winter).
GPS coordinates: N 35° 56.525' W 81° 50.513'
The Blue Ridge Parkway has a marked viewing site at the Lost Cove overlook, located at the 310 mileage marker. The view is of Brown Mountain itself, but vegetation has encroached upon the view.
GPS coordinates: N 36° 01.744' W 81° 52.305'
Time and Date
We wish that there were sufficient data to advise you when it is best to try. But, all of the info is anecdotal and includes reports of seeing them all times of the year and all times of the night. However, it is our feeling that most reports are actually "sightings" of natural and manmade lights, so any evidence of high-probability seeing times are lost in the noise of bogus reports. Of course, you only "see them when you look" so many reports of early evening sightings are biased by the observers only looking at those times. Our advice: look when you want or when it is convenient.
This page is under revision as we redesign and add content to our site. Rather than delay the availability of new content during this phase we decided to implement the new pages now. Please check back as the site expands!